Say ya to good ole Canada, eh?
The next few days of my Canadian experience have yielded fish aplenty. Combined with the two days of fishing we have brought in 10 legal "pickerels" or walleye. The fishing has been good though, very exciting and eventful.
We started with the anticipation and all the glory that Perch Bay has to offer.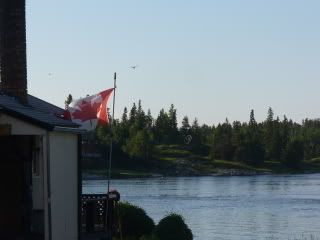 Of course, in Canada, it wouldn't be fishing without a little boat ride first. In our case, a ride in a smooth riding 16 foot Lund, the Cadillac of fishing boats. It was a beautiful day again, 24 and sunny (24 x 2 = 48 + 30 = 78). Today it was 27 (27 x 2 = 54 + 30 = 84) with a beautiful blue sky.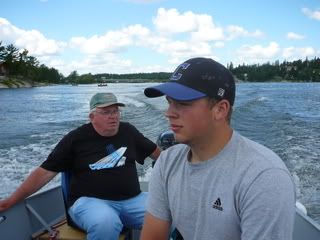 As I said, we had some keeper fish...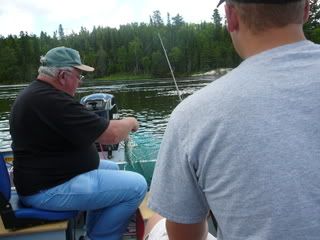 (Yes, I take off my own fish...but not when someone else nets them. I did my fair share of fish taking off today though.)
And then of course comes the best part of all - the consumption of the fish. Canadian walleye is a real treat if you've never indulged. When I was a little fella, I choked on a fish bone in Canadian Walleye and said "Walleye will be my enemy for life." However, I now openly embrace it.
We had a heck of a meal.
Not to mention the fish was cooked to perfection.
Just look at this lovely plate of food.
5 Forks!
And don't worry Aunt Carrie, I was thinking of you too. :D
I'll be seeing you all soon enough hopefully.
:)